Good afternoon all,
I have setup several instances of RT in the past, Today I have decided to try the new RT 5.0 instance
I have got RT installed successfully, it runs from /sbin/rt-server without any issues.
I have setup Apache and created a VHost file with my SSL Settings and RT settings, however whenever I brows the site, its giving me a 404 error,
I thought at first permissions so I did make fixperms but this has not resolved my issue
When browsing the site my SSL Cert is loaded so everything seems correct there, Is there anything glaringly obvious in my host file that might be stopping this from running? RT itself does appear to be running and there is nothing in the logs when I enable them for RT
<VirtualHost rt.daten.dev:443>
ServerName rt.daten.dev
AddDefaultCharset UTF-8

ScriptAlias / /opt/rt5/sbin/rt-server.fcgi/

DocumentRoot "/opt/rt5/share/html"
<Location />
    Require all granted
    Options +ExecCGI
    AddHandler fcgid-script fcgi
</Location>

SSLEngine on    
SSLCertificateFile /etc/letsencrypt/live/rt.daten.dev/fullchain.pem
SSLCertificateKeyFile /etc/letsencrypt/live/rt.daten.dev/privkey.pem
Include /etc/letsencrypt/options-ssl-apache.conf

</VirtualHost>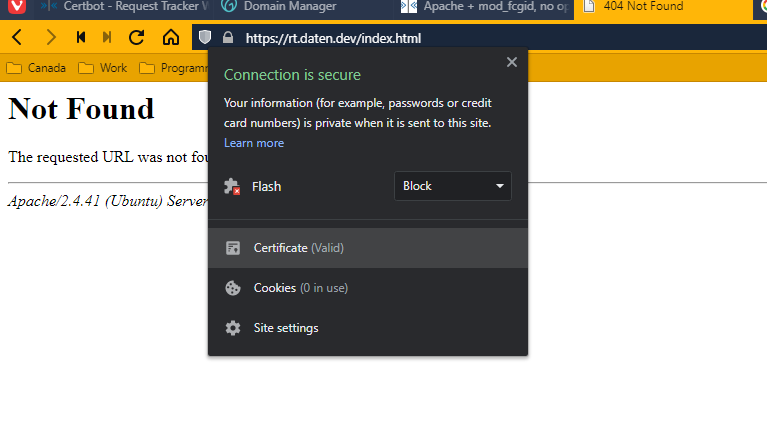 Any help would be greatly appreciated!