Hello List
Have just installed a clean RT4.2.5 system running on centos.
I'm testing at the moment and have run into issues with HTML formatted
email.
Scenario1
I'm using fetchmail to pull email form google via imap
Google appears to be creating a plain text version of all html formatted
email.
when the email reaches the ticket in RT the plain text email is listed but
not displays anything and the HTML formatted email is displayed correctly.
then the inline images are listed below as in screenshot.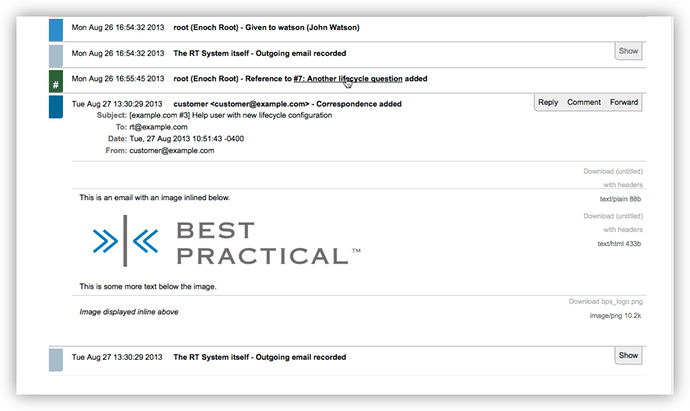 OK
Problem1
The Autoreply in HTML is replying with only the first plaintext part of the
email inside
 html tags.it completely ignores the html part.

Think this may be what

http://lists.bestpractical.com/pipermail/rt-users/2014-June/083637.html may

be experiencing.


Scenario 2

I'm using fetchmail to pull email form exchange via imap

when the email reaches the ticket in RT the HTML formatted email is

displayed correctly. Then the inline images are listed.  Good




Problem2

The Autoreply in HTML is replying, however the inline images have not been

added to the email so are displayed as empty boxes with red crosses. 




Have I missed something?




This at the moment is a bit of a show stopper as our customer user base

mostly use html formatted emails from outlook clients.




Improvements.

It would be nice if there was an option for inline pictures not to be

listed as attachments. only list files that have been attached such as

pdf's spreadsheets, photos, documents etc. similar to how outlook works at

present.




Hopefully someone can help with pointer in the right direction.

Derek